Bali, with its mesmerising underwater world, offers divers a chance to explore vibrant coral gardens, mysterious shipwrecks, and interact with a diverse range of marine life. From the playful manta rays around Nusa Penida to the historic USAT Liberty wreck in Tulamben, every dive site tells a unique story. For those booking luxury villas, the experience becomes even more enchanting. And with the island's commitment to marine conservation, divers can also participate in eco-friendly dives and contribute to coral restoration projects.
Bali's Underwater Beauty: Coral Gardens and Their Vibrant Inhabitants
The coral reefs of Bali are teeming with life. From the soft corals swaying with the currents to the hard corals standing tall against the tides, these underwater gardens are a sight to behold. The biodiversity here is staggering, making it a must-visit destination for marine enthusiasts.
Bali's underwater world is also home to several shipwrecks, each with its own tale to tell. The most famous of these is the USAT Liberty wreck in Tulamben. This World War II cargo ship was torpedoed by a Japanese submarine and now lies close to the shore, serving as an artificial reef teeming with marine life.
Encounter Manta Rays and The Unmissable Turtle Sanctuary
Nusa Lembongan, another gem in Bali's underwater treasure trove, is where you can have close encounters with graceful manta rays. Imagine the thrill of swimming alongside these majestic creatures, their wings spanning up to 15 feet. It's an experience that will leave you in awe of the ocean's wonders.
Near Kuta, you can contribute to marine conservation efforts by visiting Bali's Turtle Island. Luxury isn't just about indulgence; it's about making a difference. Witness the nurturing and rehabilitation of these magnificent creatures in their natural habitat and support this vital cause.
Vibrant Marine Life at Menjangan Island
Menjangan Island, part of the Bali Barat National Park, offers some of the most pristine diving experiences in Bali. Here, you can dive into the vibrant world of coral reefs teeming with exotic fish species. The crystal-clear waters provide unparalleled visibility, allowing you to capture the magic of this underwater realm.
The Mystery of the Underwater Temple Garden
For photography enthusiasts, Bali offers a thriving underwater photography scene. Off the coast of Pemuteran, lies the mesmerizing underwater temple garden. Submerged statues and structures create an otherworldly atmosphere, making it a photographer's paradise. This mystical site, where Bali's culture meets its underwater world offers an opportunity to create lasting memories and master the art of underwater photography.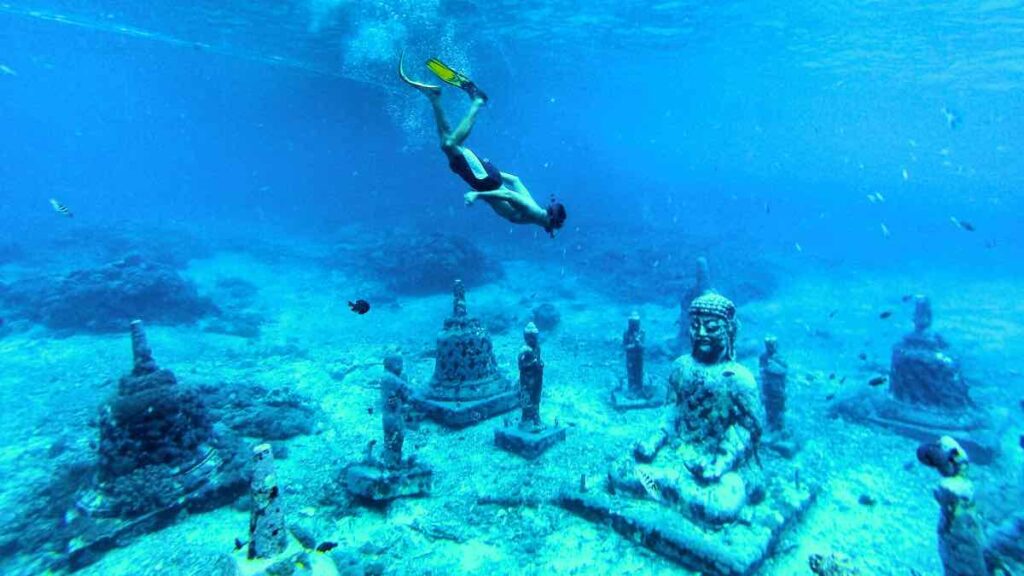 What is the best period to dive in Bali?
To truly capture the essence of Bali's underwater beauty, timing is crucial. The best period to dive in Bali spans from April to November. During these months, the monsoon winds shift, leading to calmer seas on the island's western coast. This results in excellent visibility, often exceeding 30 metres, allowing divers to fully appreciate the intricate details of the underwater landscapes.
Water temperatures remain pleasantly warm, ranging from 26°C to 29°C, making it comfortable for extended dives. This period also coincides with the Mola Mola (sunfish) season, offering divers a chance to witness these gentle giants in their natural habitat.
While Bali offers year-round diving opportunities, the months between April and November undoubtedly provide the most optimal conditions, ensuring both safety and unparalleled visual delights.
This period also coincides with the Mola Mola (sunfish) season, offering divers a chance to witness these gentle giants in their natural habitat. Moreover, the calmer waters increase the likelihood of encountering majestic manta rays, especially around Nusa Penida.
Whether you're a novice hoping to explore shallow reefs or an experienced diver eager to plunge into deep drop-offs, choosing the right time to dive in Bali can elevate your underwater adventure to an unforgettable experience.